College and Career Academy unveils renovated advanced manufacturing labs
Oct. 11, 2021
Source: By Ryan Anderson ryananderson@dailycitizen.news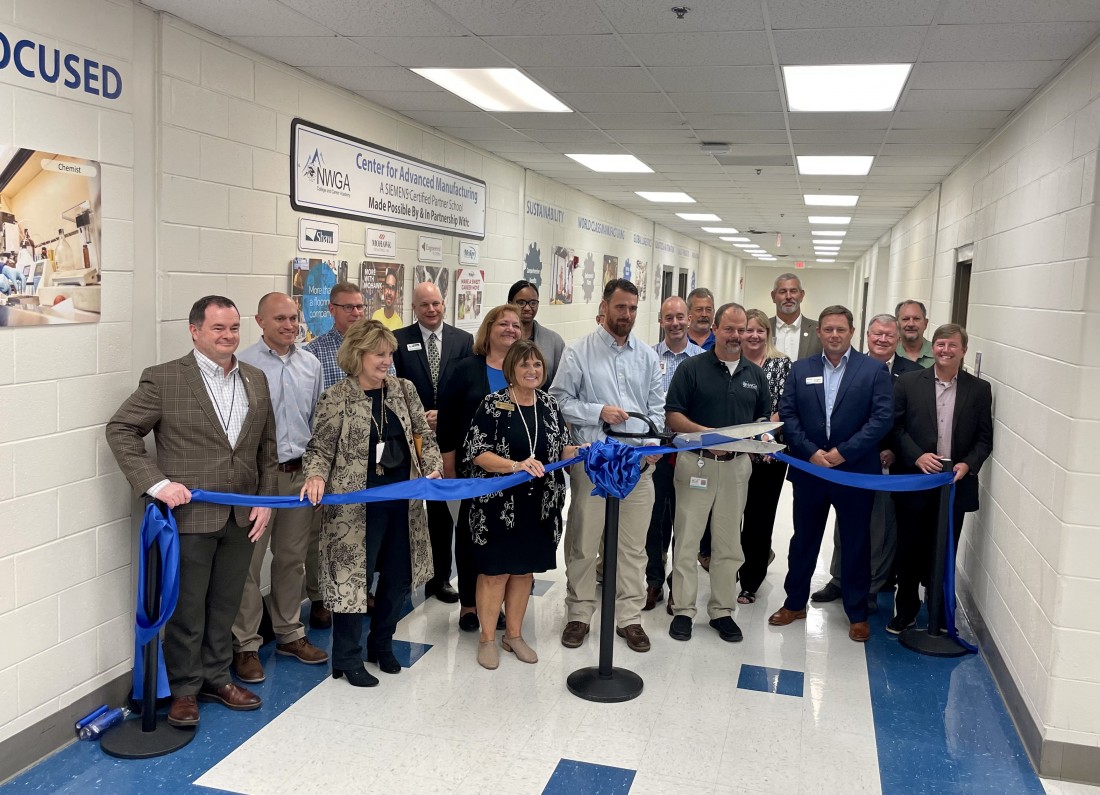 The Northwest Georgia College and Career Academy's newly renovated advanced manufacturing labs are "truly an investment in future manufacturing needs in Whitfield County," according to the chairman of the academy's board, Brian Cooksey.
The students at the academy will become the future workforce for roughly 300 manufacturing companies that operate in Whitfield County and employ roughly 25,000, said Cooksey, who is the director of workforce development for Shaw Industries. And those companies "give back" locally, including funding for the labs renovation.
The academy received $111,000 in donations from industry partners to expand its manufacturing and mechatronics pathways and better prepare students to enter the workforce, according to Kris Horsley, communications specialist for Whitfield County Schools.
It's "exciting for us to see the culmination of all this work" that will provide "outstanding opportunities for students," but the labs project is also "a testament to the partnership between private industry and public education in this community," said Mike Ewton, superintendent of Whitfield County Schools.
"All of our students need to be college (and/or)career-ready when they leave high school, and our community partners make it happen" through projects like this, which have also turned the academy into "a model to emulate around the state," as the academy was named Georgia's College and Career Academy of the Year for 2021 by the Technical College System of Georgia and Lt. Gov. Geoff Duncan.
"Our job is workforce development, and that is what we do," said David Moeller, the academy's CEO. "To do that, you have to engage the business community, and this campus is a massive workforce development footprint our industry partners should be proud of, (as) the workforce begins here."
"This school is a huge asset," said Carl Campbell, executive director of the Dalton-Whitfield County Joint Development Authority. Mechatronic an interdisciplinary branch of engineering focused on the integration of mechanical, electronic and electrical engineering systems while also including a blend of robotics, electronics, computer science, telecommunications, systems, control, and product engineering — is "a buzzword across the state and country, and our community (is on) the front edge."
In the mechatronics lab, for example, students work on everything from pneumatics and hydraulics to electrical controls, said instructor Cody Holloway.
"We do lots of projects, too."
In the academy's school of manufacturing, students learn the foundations of manufacturing and materials science, robotics and automated systems, and production enterprises, among other concepts In the school of mechatronics and engineering, the curriculum includes an introduction to mechatronics, electrical motors, hydraulic systems, semiconductors, mechanical systems, and pump and piping systems, among others.
The academy celebrated a second highlight during Wednesday's official opening of the manufacturing
labs, as the academy has been named a Siemens Partnership School, one of only three schools in the state to achieve that distinction.
" The Siemens Mechatronic Systems Certification Program is a recognized, international industrial certification that increases the employability of students and meets industry skill requirements," Horsley said. "Students pursuing this certification will learn how to work and troubleshoot complex systems, preparing them for present and future industry skill requirements."
It's imperative workers "know how to troubleshoot and look at whole systems," and academy instructors visited Atlanta for training so they can teach students the Siemens program, Moeller said. This program "is a great example of how we respond to industry needs."
The program was founded "about 160 years ago with the Siemens apprenticeship program in Germany, and it worked so well" that "we've exported it to about 65 countries," including the U.S., said Gail Norris, a director of technical learning services for Siemens. It has three levels, the first of which can be taught at the high school level at the academy.
At that initial level, "intelligent operator," students learn to diagnose problems in machines,
as "we start at the systems level, then go down to individual components," Norris said. "If you don't understand how the system flows, it's very difficult to do troubleshooting."
The second level can be taught at Georgia Northwestern Technical College (GNTC), which shares everything from campus to "equipment, technology, and faculty" with the academy, said Heidi Popham, the college's president. Those at level two can be mechatronics maintenance technicians — the average salary for that occupation in Georgia is $85,000 — "a great, family-sustaining wage."
Beyond that is the industry level, and "we'll be in line" for graduates of each level, because "we are looking for these kinds of hires," Norris said. "We're really excited to see (this program) up here, and we would love to see it at every college and career academy in Georgia because we really believe in it."
The Siemens certification and partnership "adds a big piece," as "these jobs are sought-after," and achieving this certification will make local students "extremely valuable here and across the world," Campbell said. Students can work on machines at the academy, and, perhaps, later, at GNTC, that they'll eventually use in facilities all over the world, so "this works."
ADD TO REPORT
As you navigate our website, you can use the "Add to Report" button to add any page or property to a custom report that you can print out or save.