Dalton-Whitfield County JDA Receives Award For Large Community Deal Of The Year
Nov. 28, 2018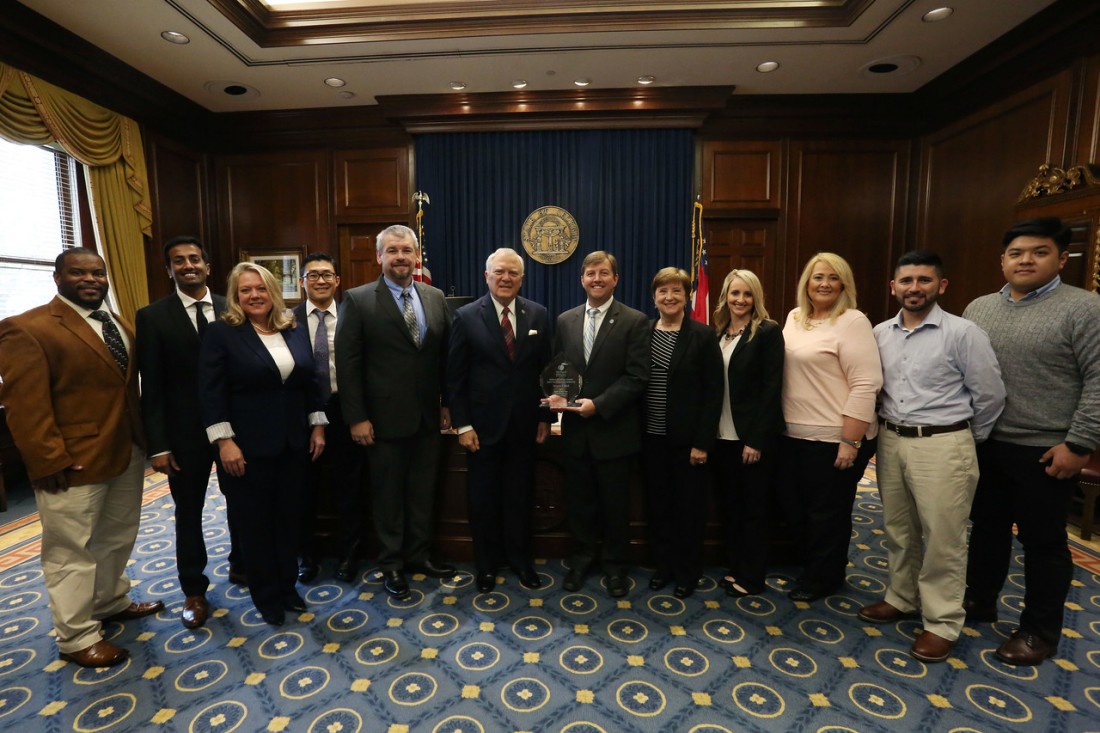 ATLANTA (November 26, 2018) – The Georgia Economic Developers Association recognized the Dalton-Whitfield County Joint Development Authority for an "outstanding achievement in the location/expansion of business in Georgia" at its November Awards luncheon. The Joint Development Authority was recognized for the Hanwha Q-CELLS project that was announced on May 30, 2018. Pat Wilson, Commissioner, Georgia Department of Economic Development, presented the award to Carl Campbell, Executive Director, Dalton-Whitfield County Joint Development Authority, members of Hanwha Q CELLS, along with a number of other Dalton-Whitfield County officials.
The Hanwha Q CELLS project will create more than 500 jobs and invest $150 million in a new solar module manufacturing facility in Dalton. Having a graded site in a GRAD-certified park was key to allowing Dalton-Whitfield to be part of the discussion to begin with, and its ability to move fast and keep the company on track regarding permitting and construction helped it prevail.
About the Award
This is now the twelfth year that GEDA has recognized the major projects from the previous year. In what has become a major portion of the Annual Awards Ceremony – GEDA recognizes recipients in four categories:
SMALL – a county with population 50,000 and under,
MID-SIZE – a county with population 50,001 – 100,000,
LARGE – a county with population over 100,000,
REGIONAL – any multi-county effort.
The Deal of the Year Awards recognizes outstanding achievement in the location or expansion of new businesses in the state of Georgia that meet community economic development goals and involve significant community program support, such as financial or permitting assistance, workforce development, state financial support, etc.
ADD TO REPORT
As you navigate our website, you can use the "Add to Report" button to add any page or property to a custom report that you can print out or save.