Don Adcock Named Small Business Person of the Year
Oct. 25, 2013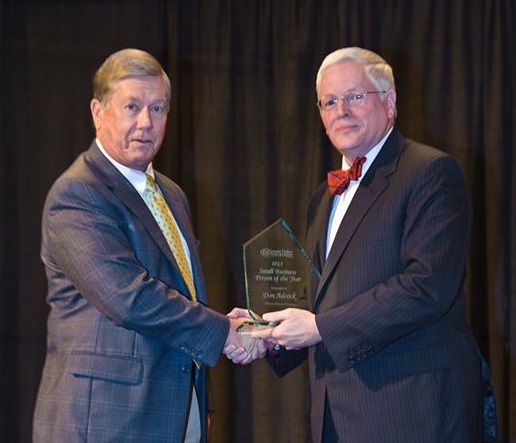 The Greater Dalton Chamber of Commerce, in partnership with the Dalton-Whitfield County Joint Development Authority, recognized Don Adcock as the 2013 Small Business Person of the Year during the Chamber Annual Banquet on October 22nd. Adcock is the founder and CEO of Adcock Financial Group.
"Don and his employees are extremely involved in the community from their support of many local organizations, such as the Greater Dalton Chamber, to their membership with many of our civic organizations. For this reason, we are pleased to honor Don and Adcock Financial Group," said Bryan McAllister, past Chairman of the Chamber Board of Directors.
This is the second year that the Greater Dalton Chamber of Commerce has named a community member the "Small Business Person of the Year." This award recognizes a business leader who owns and operates a for-profit company that employs 50 or fewer full-time employees, bears principal responsibility for operations, who has experienced recent business growth and who is involved in the development and growth of the Greater Dalton Community.
Adcock Financial Group has been in business since 1969. AFG has focused on the employee's benefits market, but also sells individual life and health products. They have 3 licensed investment advisors in-house. Currently, AFG has 15 employees, 10 of those have been with the company for 5 or more years.
Adcock is an active member of The First United Methodist Church. He is also a member of the Dalton Rotary Club and currently serves on the Board of Directors of Hamilton Healthcare System. He was named a Life Associate of the Whitfield Healthcare Foundation after serving on its Board for over 30 years. In the past, he has served on the Executive Board of Big Brothers Big Sisters, the NW Georgia Healthcare Partnership, Dalton Rotary Club, the Greater Dalton Chamber of Commerce and also served as President of the Dalton Exchange Club.
Past recipient of the Small Business Leader of the Year Award is:
Kasey Carpenter (2012) Oakwood Café & the Sweet Spot
"The Chamber reviewed a number of outstanding nominations for the Small Business Person of the Year Award. Greater Dalton continues to amaze us with their strong entrepreneurial mindset and dedication to our community. This year's nominees were no exception," said Chamber President Brian Anderson.